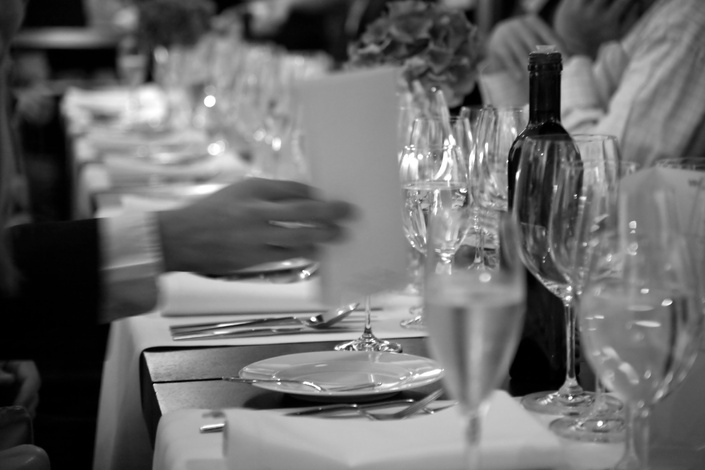 Dining Etiquette: Essential Skills & Classic Manners
Everything you need to know to impress your client, your boss or your date
Watch Promo
Take Your Seat Today!
Dining Etiquette:
Essential Skills & Classic Manners
Does sitting down to a formal meal fill you with dread?
Do you know which bread plate is yours?
Do you know which fork to use?
Do you know where to seat your client?
Does any of this really matter?
Will knowing any of these things change your life? I doubt it.

Will not knowing these things make you look less polished and professional?
Absolutely!
Dining Etiquette is as much about confidence as it is about which fork to use. For instance, what if...

Your boss has just asked you to take a prospective customer out for lunch
The CEO of your biggest client has invited you to attend a gala dinner
Your manager takes you out for a meal to discuss a promotion
It turns out your job interview is taking place in a four-star restaurant...
How confident are you feeling now?
Are you able to glide through a smooth, hiccup-free event?

Beyond knowing which bread plate is yours, or which fork to use, do you understand your role as host or guest? Do you order first, or last? What about alcohol? How do you pay the bill discretely?
Do you realize that if you're hosting guests at a meal they will be looking to you for social cues?
Did you know that as a guest you should be looking to your host for cues?
Are you aware being a good guest has a bit of a 'job description'?
Being comfortable and confident when you sit down to a meal is crucial when you are dining with customers, whether you're the guest or the host.
This all sounds so formal!

One of the unintended consequences of our less formal world is thinking that structure and ritual are old fashioned or obsolete. They are in fact enormously helpful, particularly around the table where structure allows everyone to know what to expect and encourages thoughtful, rather than stiff, behaviour: ensuring that guests are looked after, servers are treated with respect, and everyone feels comfortable and relaxed.
Why this workshop?
Know-how and confidence are especially important in business settings where social skills are required: attending events, hosting prospects, or dining out with clients.
These skills aren't about 'impressing' everyone (although, that helps), they are about adding to your knowledge and confidence.
If you are confident with your skills then those around you will feel relaxed in your company. Understanding how to be a gracious host and a thoughtful guest puts all those around the table at ease. Not only does this boost your confidence but it provides added polish and leaves a lasting impression on everyone - in the right way!
We know, absolutely, that it pays dividends to put polish and good professional behaviour into the mix...

"Hilary was central in our building a conference and events business from low level to become a serious player in an already-crowded market. No mean feat. Her excellent organisational and people skills are an asset to any organisation she works for; I have never known anyone use simple politeness and good manners to such good commercial effect."
~ Steve Gibbons, Head of Employment Law, IDS, London, England

"Hilary was very knowledgeable and I learned a lot about the topic that once eluded me."

"Hilary was able to provide information in a way that was effective for me."
"Interesting topic. Hilary was very clear and knowledgeable."
"Great food, fantastic presentation."
"Hilary was very knowledgeable and able to answer any the questions I had"
"Awesome! Especially considering the diversity of the cultures."
"After participating in this event, I have a better knowledge of proper etiquette."
~ Feedback from our Niagara College Dining Etiquette Session
Your Teacher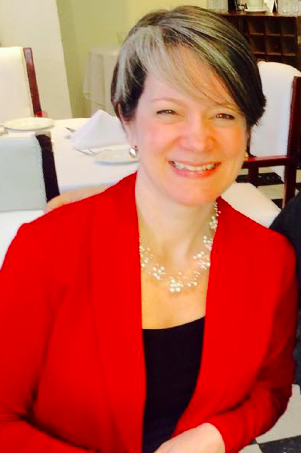 Hilary E. Robinson
My background includes 25 years of running corporate events for various industries, in many parts of the world, including the UK, Europe, the Middle East, India and Canada.
Working on these projects, with people from all backgrounds, served to remind me time and again of the value of polite behaviour, good manners, good humour and excellent communications skills.

It's because of these experiences that I started Polished Professionals, and now focus my time and attention on teaching etiquette and communications skills.

Powerful Tools
Manners and courtesy are hugely powerful communication tools, and when put into use are also the foundations for success. In addition, the confidence that comes with understanding what to do and/or expect in all circumstances will mark you out as a leader.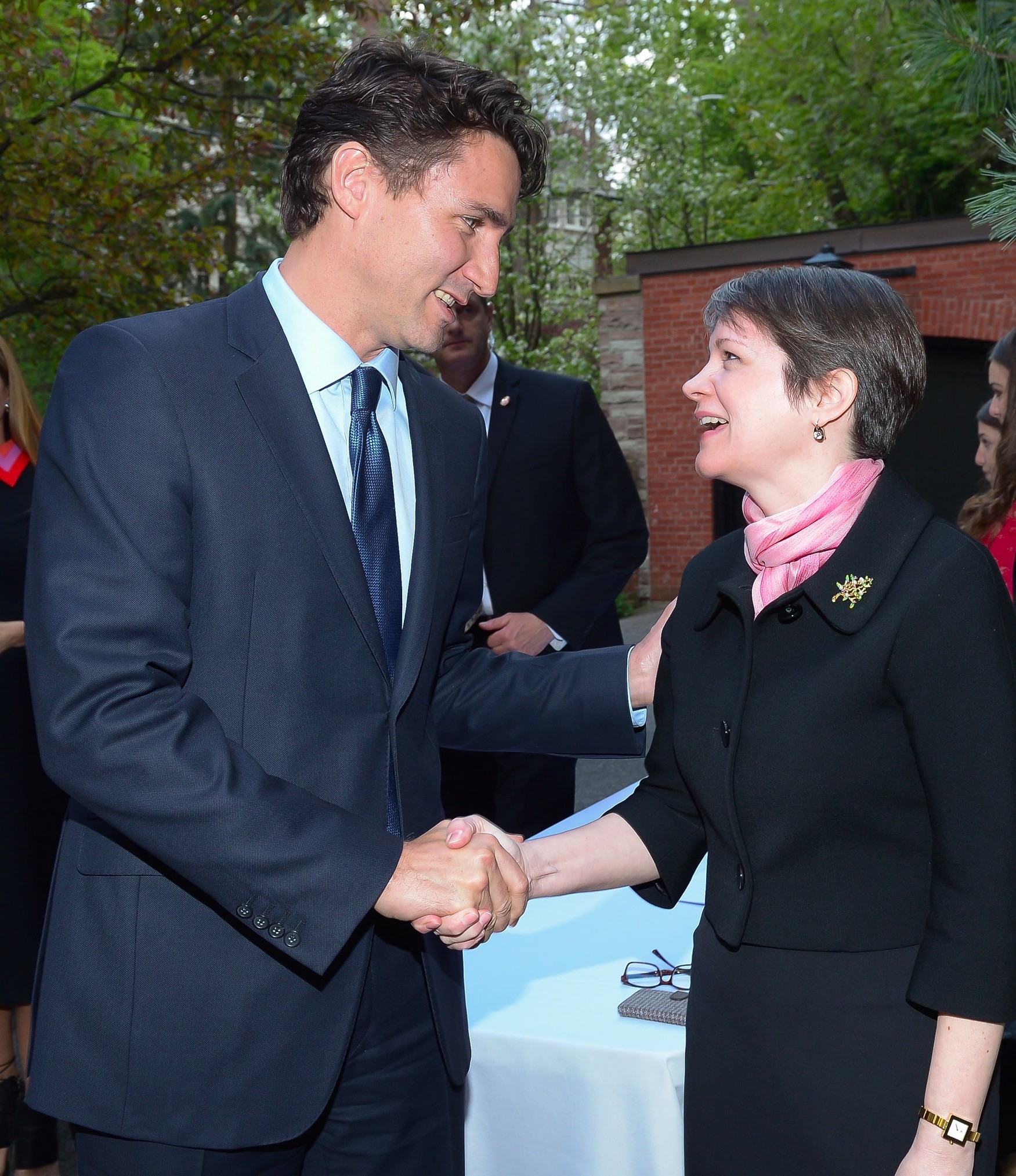 A good handshake is also a powerful tool.
Where the word 'etiquette' fails is that it often conjures up more thoughts about 'rules' than manners - and this is where I'm a bit different, I don't insist you follow the rules.

I believe that holding on to outdated and obsolete practices and rules is not only short-sighted and single-minded but also entirely counter-productive. Many of life's rules exist to give us a starting point and structure but that doesn't make them perfect, immovable or correct 100% of the time.

My Philosophy
Learn the rules, understand the rules, and then adapt your behaviour to fit your audience and your situation.
I prefer to teach the rules, with their parameters: what it means to follow them, what advantages there are in knowing how and when to bend them, and the value in using good manners to put other people at ease.
Not all social or business situations are created equal – it's understanding that, and knowing how to deal with it, that gives us our ability to be our best and succeed.
My interest in etiquette and protocol was influenced initially by my parents, who taught me that everyone should be treated with dignity and respect, and subsequently by my years working in business, where I've observed that even the smallest injection of courtesy, thoughtfulness and humour can work wonders – and makes things a lot more enjoyable!
I am completely passionate (and nerdy!) about all this…please don't be shy about getting in touch if you have questions about any of our services.
I hope to see you inside the course.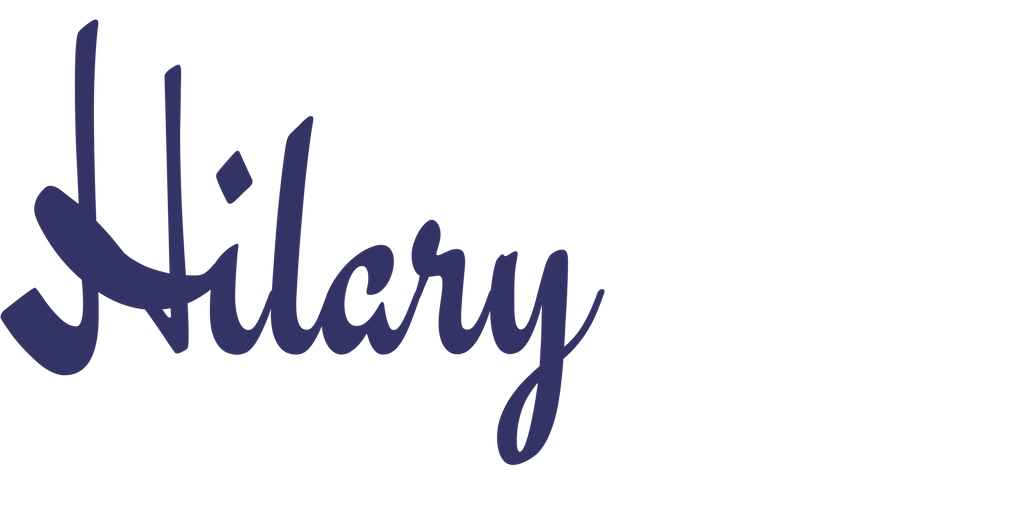 Powerful, practical skills
This course has been designed to provide you with the tools, skills, and confidence, you need to sit down to any table, with anyone for any reason.
Whether you're hosting clients at the finest four-star restaurant, with your boss at a black-tie dinner, or out with colleagues at your favourite burger joint - we have your (Dining Etiquette) back.
We will take you through all the finer points of Dining Etiquette - but not just the 'how', we also cover the why, so that you leave the course understanding the reasons behind the lessons.
Outcomes
This course is all about leaving you with practical skills and tools that you can put into practice immediately. At the end of the course you will be able to:
Understand and navigate any table setting
Use your cutlery like a pro
Master the Silent Service Code
Deal with difficult foods
Host with confidence
Be an outstanding guest
Impress your clients, prospects and bosses with your comfortable, confident approach!
Whether you are the host or the guest, mingling with customers, senior managers or CEOs, you need to feel confident and comfortable with your abilities, and in your surroundings – it's key to your success!
Can I really learn these things online?
Yes, you can absolutely learn all these skills online! (I would say that, wouldn't I?)
Here's why I say it:
The course is laid out in the same way as our in-person training
The concepts and advice included are easy to follow and simple to implement
The videos provide step-by-step instructions; as long as you practice, you'll master the techniques
Is it the same as training in person? No, but online training is an excellent option if you want to:
Learn at your own pace
Participate from any location
Enjoy a cost saving
And, if you opt either our 'Cocktail Hour' or 'Red Carpet V.I.P.' packages you'll get extra help from me during live video sessions.
Still have doubts?
We know that investing your time and money in training is an important decision. We also know that not all training is suited to all people. That's why we offer a 30-day money back guarantee. If you decide that that course isn't for you then you just need to contact us within 30 days after your purchase and we will give you a full refund.
Still have questions?
We want you to have all the answers you need to make your decision. Email any questions you have to: [email protected]
*The music in our promo video is 'JazzyFrenchy', courtesy of Bensound.com

Hilary's presentation style:
"Hilary brought a wealth of knowledge and a very approachable style to her presentation, and our audience got a lot out of the Q&A in particular as she offered etiquette tips and tricks for day to day situations in which we have all found ourselves."
~ Erika Wien, Director, Canadian Division Events Team, Manulife Financial
Course Curriculum
Welcome
Available in days
days after you enroll
The Role of Host & Guest
Available in days
days after you enroll
The Table
Available in days
days after you enroll
Frequently Asked Questions
When does the course start and finish?
The course starts now and never ends! It is a completely self-paced online course - you decide when you start and when you finish.
How long do I have access to the course?
How does lifetime access sound? After enrolling, you have unlimited access to this course for as long as you like - across any and all devices you own.
What if I am unhappy with the course?
We would never want you to be unhappy! If you are unsatisfied with your purchase, contact us in the first 30 days and we will give you a full refund.